This apprenticeship will guide those wanting to incorporate Cacao and Indigenous wisdom into their practice and share these traditions with others. It will be a space to learn, share, and grow on the path toward living life from the heart.
Our Mission
This 9-month mentorship experience with Florencia Fridman and assisted by elders and guides aims to support visionaries and leaders to bring ancient wisdom into the modern world. We honor and bring reverence to the ancient traditions and wisdom holders of thousands of years while also finding our own unique voice to become the leaders that we were born to be. 
Cacao is a sacred plant that guides us deeper into our truth, dissolving the blockages that are separating us from our highest potential. Many Indigenous communities all over Mesoamerica have used Cacao as a sacred beverage, connecting us with the divinity that resides within us. We follow in their footsteps.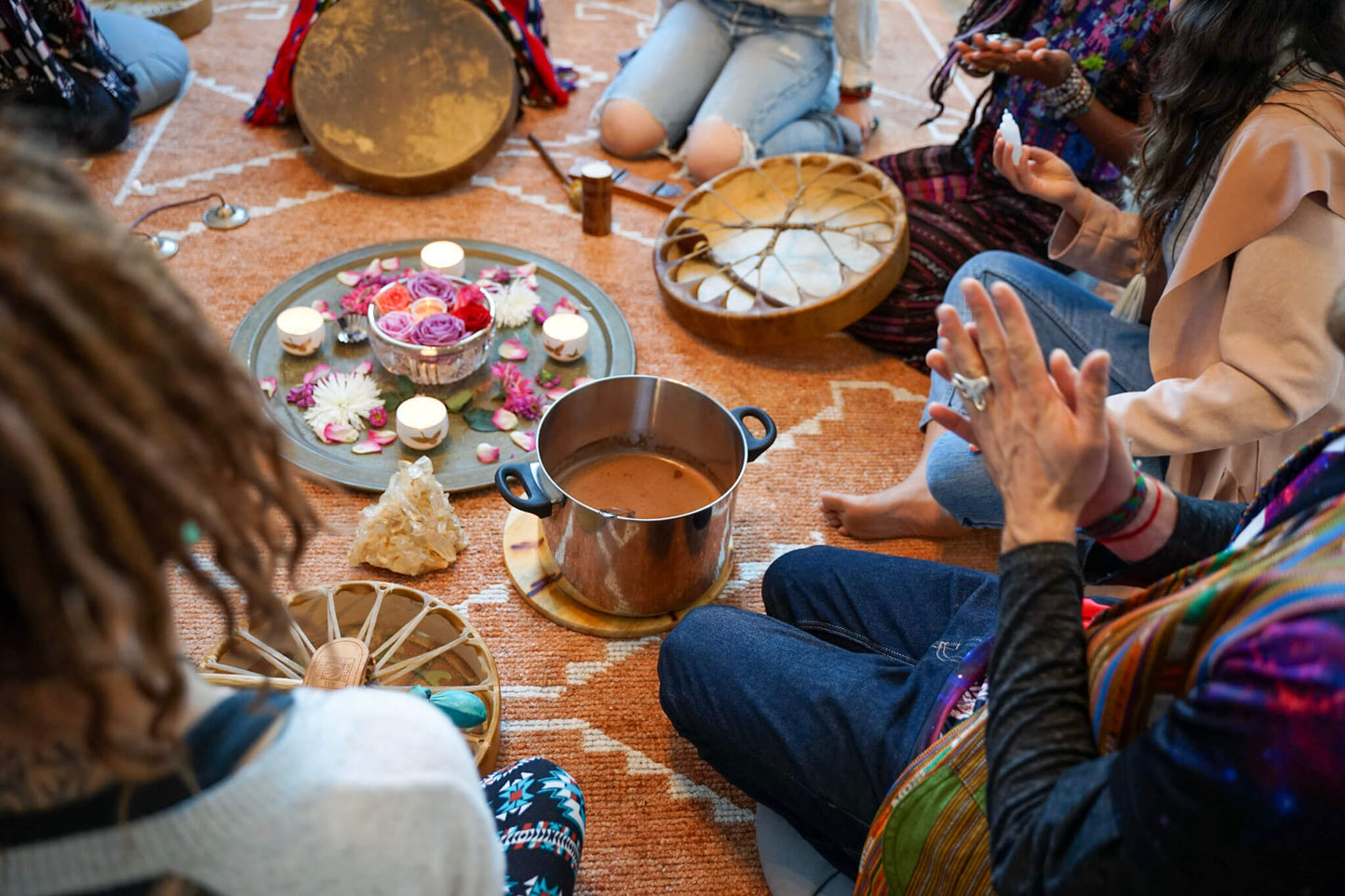 The Course
During the 9 month journey together we will:
• Receive the understanding of Cacao on a physical and energetic level. We will be learning about ourselves in the process of learning the plant spirit of Cacao.
• We will touch upon the history of Cacao, its social impact, and physical benefits.
• We will explore the traditional way of using Cacao in ritual and ceremony, the preparation process of ceremonial Cacao paste, how to prepare your own sacred Cacao beverage, sacred songs to sing while making the Cacao, and the process of a ceremony (the sequence of how Florencia shares Ceremony).
• We will touch on the understanding of the Mayan sacred calendar (for personal use only)
• This is not a certified course—it is an apprenticeship where I will share all that has been shared with me through oral tradition, ceremonies, experiences with this path, and self-study.
What's Included in the Three Month Immersive?
Cacao virtual circle membership included during 9 months
Five day retreat in Ronda, Spain
Cacao virtual circle membership included during 9 months
Five day retreat in Ronda, Spain
1X per week meet in group virtually
2x/week circles: Optional
1X per week meet in group virtually
2x/week circles: Optional
6 Months Of Coaching Post-Immersive
There will be a monthly virtual gathering to check in on your process, as well as give guidance and support on any aspect necessary.
This journey is for you if...
Example Topics of the Course
Dieta Session
Dreams + relationship to the sacred
Cacao: physical benefits- Virtual
Plant allies
Holding Space Class:
How to cleanse people as they come in
What kind of plants to use for cleansing
How to cleanse post ceremony
How to prepare for ceremony
How to create your blessing
Sacred song session
Sequence + facilitation
Cacao and the Land
Types of strains
Growing process of Cacao
Bean to paste
History and evolution of the Cacao industry
Stewards of the Earth
Kamungishi 
Sacred Reciprocity
Using cacao and dreams as vehicles for change
Timeline
• Virtual weekly sessions for 3 months (2 hours), meeting on Sundays
• Virtual monthly sessions for 6 months, continuing after the 3 month immersive (2 hours)
• One 5-day retreat in Ronda, Spain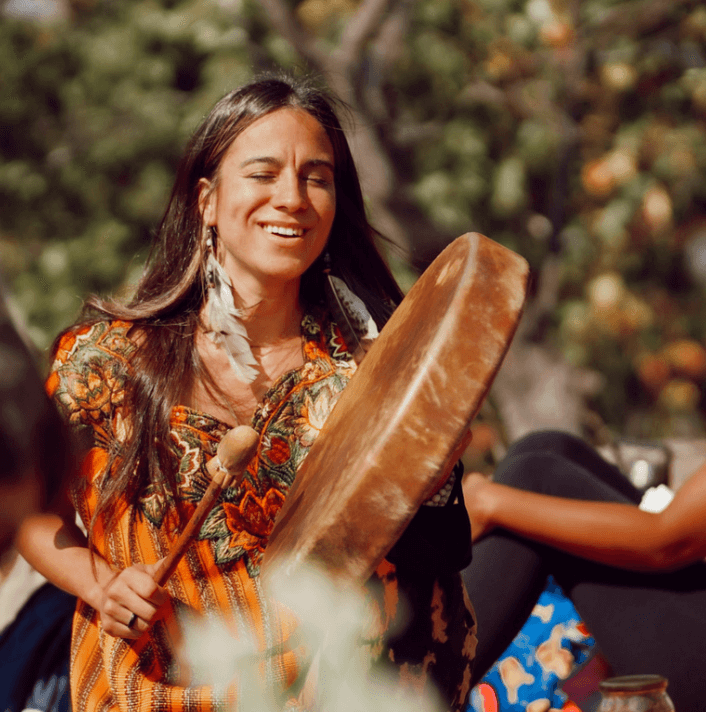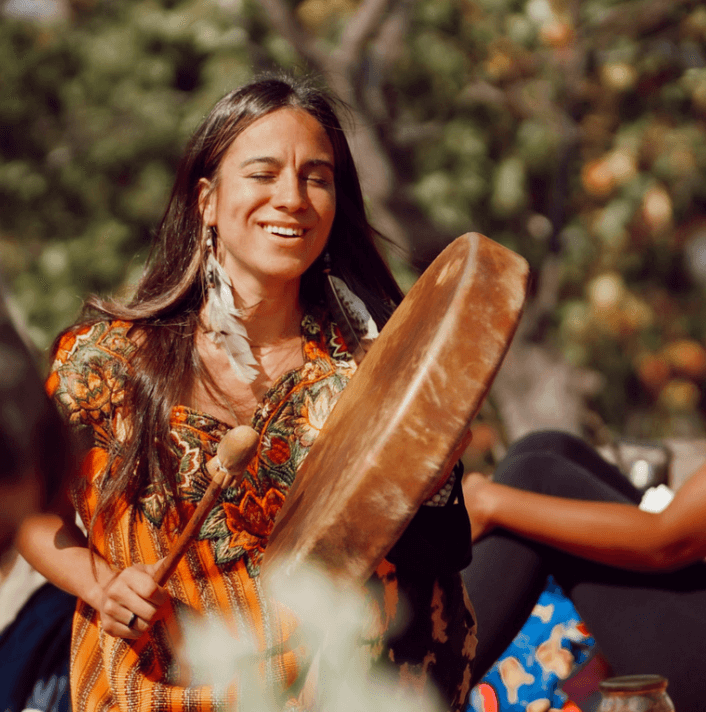 Florencia Fridman
Florencia is a self-empowerment artist working with heart opening therapies involving holistic nutrition, ceremonial cacao, yoga, sound and breath as instruments for transformation. She has worked with Indigenous Mayan culture of Guatemala and the Sápara community of Ecuador. Florencia is also co-founder of Cacao Laboratory.